Images for every kind of project, from $20 to global exclusives. Whatever your budget, we've got you covered.
Rights-Managed (RM) Images
With Rights-Managed images you can acquire rights ranging from non-exclusive to a total worldwide buyout.
Pricing of RM images varies, based on a number of factors such as:
media in which the RM image will appear
size of reproduction
prominence of RM image (cover? background? inset?)
duration of use (one-time? one year? permanent rights?)
quantity of distribution (print run / circulation)
frequency of use (e.g. number of advertising insertions)
territory of distribution (local? national? international?)
degree of exclusivity required
RM Value Bundles
RM Value Bundles give you the option to use an image for various types of media without having to license for each individual use or provide detailed usage information. Our Bundles offer unlimited usage in the territory, industry & time period selected. You do not need to specify either the size of the image or its position. The circulation for the Bundles can be limited or unlimited, in both cases you do not need to specify the circulation of each usage. For limited RM Value Bundles, combined circulations/print runs cannot exceed the purchase rights.
We offer over 20 different bundles. Some of the most popular include:
Collateral Print + Web
Collateral Print + Web + P.O.P.
Collateral Print + Web + P.O.P. + Packaging
Collateral Print + Print Advertising + Web
Print Advertising
Magazine & Newspaper Advertising + Internet
Print Advertising + Web
Print Advertising + Web + Indoor/Outdoor Advertising
All Media
Outdoor Display Bundle
Brochure + Web + PDF
Web + Electronic Use
Trade Show
Point-of-Purchase - Printed and Electronic
To learn more about Bundle pricing, contact your Account Executive.
Global Rights Protection SystemTM
Exclusivity: it's what our rights-managed photography is all about. Keeping the images your clients use out of the campaigns of the competition is a valuable service you can offer, thanks to Masterfile's air-tight rights control system. We can tell you where and how an image has been used, no matter how often it's been licensed.
How it works
When you license an RM image from Masterfile - even for non-exclusive use - we check its history (as well as similar images from the same shoot). If there is a potential conflict, we'll advise you and you can select a different image.
Choose your level of exclusivity
You can acquire exclusive rights for a specific trade, territory, media and/or time period. You can even negotiate a complete buyout of an RM image, if that's what you need.
For more information about rights control, call 1-800-387-9010 or 416-929-3000 to speak to an Account Executive or contact us at info@masterfile.com.
---
Royalty-Free (RF) Images
All web-quality royalty-free images are available for $20 per image.
RF images are only available on a non-exclusive basis.
RF Licensing fees are based solely on image file size.
You can quickly determine pricing in 2 easy ways: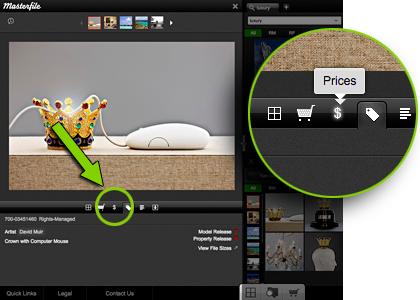 Simply click on the Pricing icon beneath the image. For RF images, prices based on file size will display automatically. For RM images, the Price Calculator will prompt you to enter your usage details. Your price will be displayed at the bottom of the pop-up window. Want to buy? Your usage details and price will be saved in your shopping cart by selecting "Add to Cart".
Or call us at 1-800-387-9010 or 416-929-3000. A friendly Account Executive will explain pricing and discuss your specific requirements. If you want to place an order immediately, we can handle everything over the phone.
---
Available Extended Licenses
An Extended License adds usage rights to Budget RF images, which are not part of our Basic License.
Consumer Merchandise – 50 $: Entitles you to use an image for placement on products for commercial resale or redistribution. Some examples include: mugs, mouse pads, t - shirts and other apparel, toys; greeting cards, stationary, calendars, stickers, posters, artwork and similar paper products.
Electronic Template – 50 $: Grants permission to resell or distribute the image as part of an electronic template, such as an e-greeting card, Powerpoint slideshow template, or software deployment package.
Unlimited Print Run – 50 $: The basic license limits quantity of reproductions to fewer than 500,000. This extended license allows for unlimited print runs.
Unlimited Seat License – 50 $: Enables any number of employees of the same company to use the image.
You may add extended licenses to your previously licensed image by adding the image, at the size you originally selected, to your shopping cart. Extended license options are available at checkout.
Last updated: 2012-10-01