Color satellite image of Toronto, Hamilton and Niagara Falls, Canada. Toronto lies on the northern shore of Lake Ontario, while Hamilton is at the west end of the lake. Niagara Falls are on the Niagara River at south, that forms part of the border between the province of Ontario in Canada (on the west) and the state of New York in the United States (on the east). Image collected on September 04, 2016 by Sentinel-2 satellites.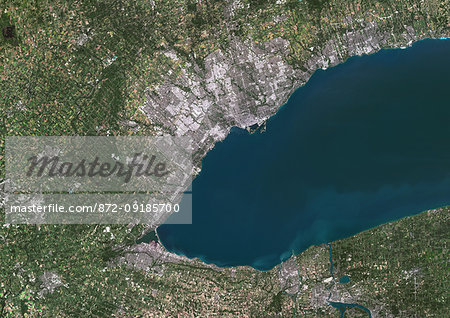 Offre de lancement
Economisez 50% lorsque vous rejoignez notre bulletin
Résolution Web

550×389px

19.4×13.8cm 28ppcm

Basse Résolution

1007×712px

35.6×25.2cm 28ppcm

Résolution Moyenne

2230×1576px

18.9×13.3cm 118ppcm

Haute Résolution

4961×3507px

42.0×29.7cm 118ppcm
* Prix final selon l'usage, non pas la taille du fichier.