United Kingdom, England, North Yorkshire, Clapham. The main chamber of Gaping Gill during a twice yearly winch meet when non cavers can experience the largest underground chamber and unbroken waterfall in England. The main chamber is 322ft deep and is comparable to York Minster in volume. .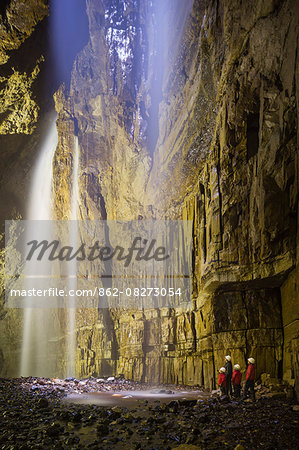 Offre de lancement
Economisez 50% lorsque vous rejoignez notre bulletin
Résolution Web

366×550px

12.9×19.4cm 28ppcm

Basse Résolution

691×1037px

24.4×36.6cm 28ppcm

Résolution Moyenne

1531×2296px

13.0×19.4cm 118ppcm

Haute Résolution

3840×5760px

32.5×48.8cm 118ppcm
* Prix final selon l'usage, non pas la taille du fichier.