A tourist at the ancient pyramids at Nuri date between 700BC and 300BC. Nineteen kings and fifty three queens from all the dynasties of the Kingdom of Cush are buried in these pyramids including Taharqa, the famous Black Pharaoh who ruled over Egypt in the 7th century BC until the Assyrians expelled him from Egypt.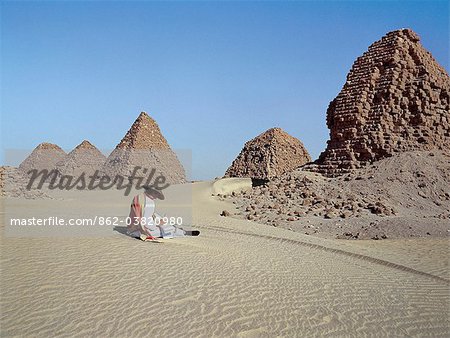 Oferta introductoria
Obtener 50% de descuento cuando se une a nuestra lista de correo electrónico
Resolución de Internet

550×413px

19.4×14.6cm 28ppcm

Baja resolución

977×735px

34.5×26.0cm 28ppcm

Mediana resolución

2162×1626px

18.3×13.8cm 118ppcm

Alta resolución

4824×3628px

40.9×30.7cm 118ppcm
* Precio final basado en el uso, no en el tamaño del archivo.
Palabras clave relacionadas