Close to Degum, the rock hewn church of Debretsion stands on top of a massif, which forms part of the spectacular Gheralta Mountains of Northern Ethiopia.A Tigray homestead stands on the arid Hawzien Plain hundreds of feet below. Flat roofed stone houses, which are common throughout Tigray Province, may have been introduced into Ethiopia from Arabia as early as 700 BC.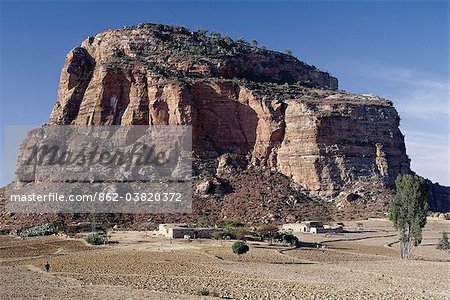 Oferta introductoria
Obtener 50% de descuento cuando se une a nuestra lista de correo electrónico
Resolución de Internet

550×367px

19.4×13.0cm 28ppcm

Baja resolución

1037×692px

36.6×24.5cm 28ppcm

Mediana resolución

2295×1531px

19.4×13.0cm 118ppcm

Alta resolución

5122×3416px

43.4×28.9cm 118ppcm
* Precio final basado en el uso, no en el tamaño del archivo.
Palabras clave relacionadas