A large herd of wildebeest and some zebra cross Sand River,a seasonal river on the boundary between Masai Mara Game Reserve and the Serengeti National Park of Northern Tanzania. The annual migration of wildebeest or white-bearded gnu reaches Masai Mara from Serengeti towards the end of July and stays about three months before heading south again.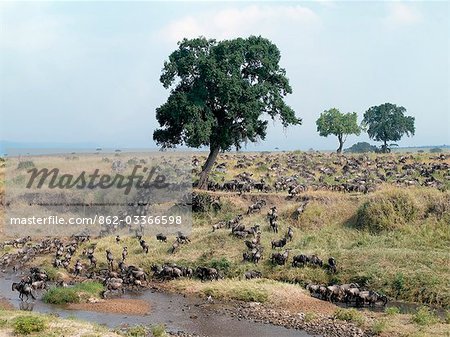 Oferta introductoria
Obtener 50% de descuento cuando se une a nuestra lista de correo electrónico
Resolución de Internet

550×412px

19.4×14.6cm 28ppcm

Baja resolución

978×734px

34.6×25.9cm 28ppcm

Mediana resolución

2165×1624px

18.3×13.8cm 118ppcm

Alta resolución

5440×4080px

46.1×34.6cm 118ppcm
* Precio final basado en el uso, no en el tamaño del archivo.
Palabras clave relacionadas