Mali,Dogon Country,Koundu. A small settlement built among rocks near the Dogon village of Koundu. Dwellings have flat roofs while granaries to store millet have pitched thatched roofs. The Dogon are animists. The sacred earthen mound on the right with an ostrich egg on top is an altar used for sacrifices by the village hogon or priest to appease the ancestors and purify the village.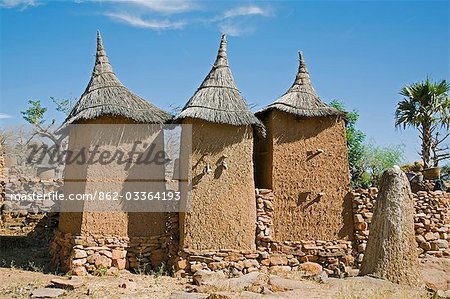 862-03364193
Con derechos protegidos
Oferta introductoria
Obtener 50% de descuento cuando se une a nuestra lista de correo electrónico
Resolución de Internet

550×366px

19.4×12.9cm 28ppcm

Baja resolución

1037×691px

36.6×24.4cm 28ppcm

Mediana resolución

2296×1530px

19.4×13.0cm 118ppcm

Alta resolución

5286×3523px

44.8×29.8cm 118ppcm
* Precio final basado en el uso, no en el tamaño del archivo.
Palabras clave relacionadas