The two Breachacha Castles stand at the head of Loch Breachacha. The older castle seen on the right was built in the fifteenth century and once a MacLean clan stronghold. Teh new castle was built around 1750. It was here that Boswell and Dr. Johnson stayed on their tour of the Hebrides when they were forced to take refuge after a storm.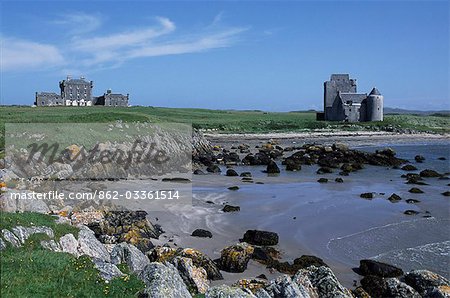 Oferta introductoria
Obtener 50% de descuento cuando se une a nuestra lista de correo electrónico
Resolución de Internet

550×364px

19.4×12.9cm 28ppcm

Baja resolución

1040×689px

36.8×24.4cm 28ppcm

Mediana resolución

2302×1526px

19.5×12.9cm 118ppcm

Alta resolución

6576×4360px

55.7×36.9cm 118ppcm
* Precio final basado en el uso, no en el tamaño del archivo.
Palabras clave relacionadas