Giant river otters (Pteronura brasiliensis). These grow to over 6 feet (1.8m) long. They hunt in family groups and are known as river wolves. They are one of the rarest mammals on the planet due to having been hunted for their pelts. An adult male basks in the afternoon sun during the seven hours a day spent hunting for fish.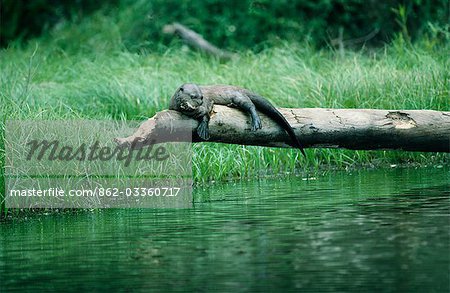 862-03360717
Con derechos protegidos
Oferta introductoria
Obtener 50% de descuento cuando se une a nuestra lista de correo electrónico
Resolución de Internet

550×358px

19.4×12.7cm 28ppcm

Baja resolución

1049×684px

37.1×24.2cm 28ppcm

Mediana resolución

2322×1514px

19.7×12.8cm 118ppcm

Alta resolución

5506×3589px

46.6×30.4cm 118ppcm
* Precio final basado en el uso, no en el tamaño del archivo.
Palabras clave relacionadas