Kenya,Maasai Mara,Narok district. A young wildebeest is attacked and killed by two large crocodiles while it swims across the Mara River during the annual migration from the Serengeti National Park in Northern Tanzania to the Masai Mara National Reserve in Southern Kenya.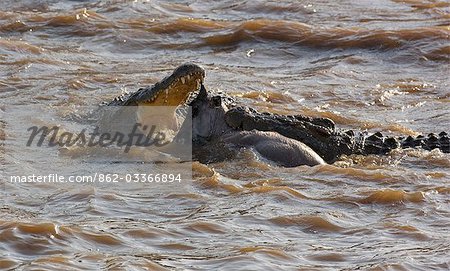 Introductory Offer
Save 50% when you join our email list
Web Resolution

550×331px

7.6×4.6in 72ppi

Low Resolution

1091×657px

15.2×9.1in 72ppi

Medium Resolution

2416×1455px

8.1×4.9in 300ppi

High Resolution

5520×3324px

18.4×11.1in 300ppi
* Final price based on usage, not file size.