Zanzibar, political map of the semi-autonomous part of Tanzania in East Africa, an archipelago in the Indian Ocean composed of the two islands Unguja and Pemba. English labeling and scaling. JPEG and Illustrator 8 EPS. Text converted to paths and no fonts are required. Vector version can be scaled to any size without loss of quality.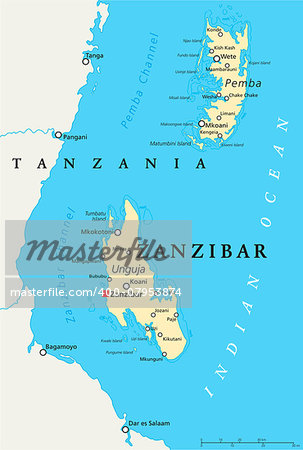 400-07953874
Budget Royalty-Free & Subscription
Download this image for $1 or less, with a Subscription.
Introductory Offer
Save 50% when you join our email list
Web Resolution

369×550px

5.1×7.6in 72ppi

Low Resolution

874×1300px

12.1×18.1in 72ppi

Medium Resolution

1513×2250px

5.0×7.5in 300ppi

High Resolution

2824×4200px

9.4×14.0in 300ppi

Super High Resolution

3429×5100px

11.4×17.0in 300ppi