A horse drawn carrage sits in front of Igreja Matriz de Santo Antônio located in Tiradentes in the state of Minas Gerais Brazil. The church is dedicated to Santo Antônio (Saint Anthony). A half ton of gold was used to decorate its interior. The façade and the entrance were designed by Aleijadinho in 1732.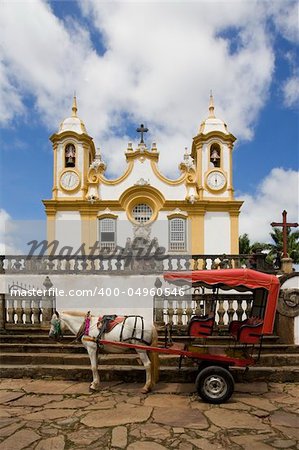 400-04960546
Budget Royalty-Free & Subscription
Download this image for $1 or less, with a Subscription.
Introductory Offer
Save 50% when you join our email list
Web Resolution

366×550px

5.1×7.6in 72ppi

Low Resolution

867×1300px

12.0×18.1in 72ppi

Medium Resolution

1500×2250px

5.0×7.5in 300ppi

High Resolution

2800×4200px

9.3×14.0in 300ppi

Super High Resolution

3400×5100px

11.3×17.0in 300ppi