Sign up for our email newsletters to get the inside scoop on promotions and special offers.
Masterfile announces Tag Clouds
For Immediate Release
Toronto, Canada - November 20, 2006
Masterfile Corporation has implemented Tag Clouds on its site, making it easier to find images.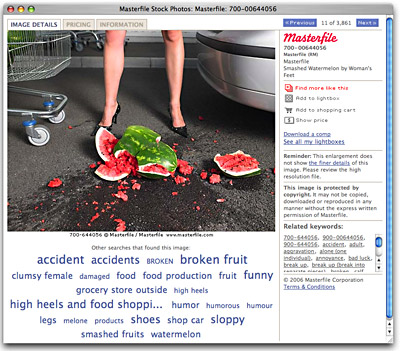 Right-click (or ctrl + click on Mac) to download a hi-res
What are Tag Clouds?
Tag Clouds display the most popular words and compound phrases used by clients to arrive at a particular image. The bigger the font, the more popular the word is. Clicking on one of these Tags automatically invokes another search. Trying interesting compound phrases can help designers find the images they want more quickly.
John McDonald, Vice-President Marketing, Masterfile Corporation says, "Tag Clouds can reduce the amount of time you spend thinking of keywords to filter large generic searches, like 'woman' or 'man' or 'people'. If someone else has searched for 'woman portrait eye contact' in the past, you can simply click a link to refine your search. The introduction of Tag Clouds is yet another way we are enhancing the user experience on Masterfile."
About Masterfile
Masterfile Corporation is a global visual content provider, with an exceptional collection of rights-managed and royalty-free stock images by world-class artists. The images, covering a wide range of subjects, are stored digitally, showcased, licensed and delivered instantly to commercial clients worldwide via the Internet. Headquartered in Toronto, Masterfile has offices in New York, Chicago, Düsseldorf, London, Milan and Paris, plus independent agents in 30 other countries.
For further information, contact:
John McDonald
Vice-President, Marketing
Masterfile Corporation
Tel. +1 416 929-3000 (x2204)
jmcdonald@masterfile.com